STRUCTURAL MONITORING OF THE
SUNDIAL BRIDGE
TURTLE BAY EXPLORATION PARK
REDDING, CALIFORNIA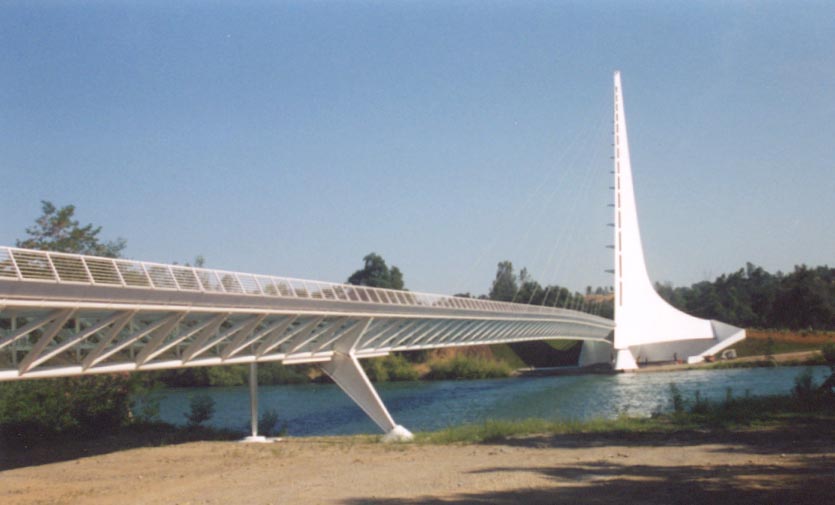 The Sundial Bridge project is an excellent example of the capacity Structural Integrity Systems, LLC, has with new structures. An electronic analysis of the 700 foot steel cable stayed pedestrian bridge was provided.

The bridge was designed by Santiago Calatrava for the Turtle Bay Exploration Park. It features a 217 foot pylon with a deck of laminated glass and granite. The Sundial was opened to the public for the
"First Crossing" on July 4, 2004.
STRUCTURAL INTEGRITY SYSTEMS, LLC, WOULD LIKE TO THANK THE FOLLOWING FOR THEIR INTEREST, CONSIDERATION, AND HELP ON THIS PROJECT:

PROJECTS

Sundial Bridge California
Rolling Bascule Florida
Royal Park Bridge Florida
South Broadway Overpass Kansas
US 24 Pottawatomie County Kansas
Shawnee County Bridge Kansas
Kemper Arena Construction Missouri

Please call and talk to us concerning the monitoring of bridges, buildings or other structures.
Thank you for visiting our web site.

Monica L. Svaty
Chief Executive Officer
Karl J. Svaty, Jr., PE, SE
President/Manager

316.634.1396
(NEW TELEPHONE NUMBER)

http://www.structuralintegritysys.com

U.S. Patent No. 5,421,204
U.S. Patent No. 5,507,188
Canadian Patent No. 2,163,653
all contents of these pages ©1996 Structural Integrity Systems L.L.C. 5.96

Best viewed with Netscape 2.0 or higher.